We love to share our enthusiasm for joint cooking and good food and wine with our family, friends and customers. The climate in the Pfalz and the soils of Herxheim are not only used for the production of grapes but also for the cultivation of fruits and vegetables in our small garden. Nature provides us again and again with energy and inspiration for our work.

Oliver Gabel
In Baden, Bordeaux, Burgundy and South Africa I was able to gain impressive experiences and new perspectives on the most diverse approaches to viticulture and wine style. As early as 2008 I developed the first wines together with my sister. Since 2014 I have been allowed to develop my style at home on my own responsibility: striking and elegant wines that show their origin. Together with my wife Lena we have established organic viticulture in the winery.

Lena Gabel
Together with my husband Oliver and our sons Jakob and Theo I live at the wine estate. Since wine has always fascinated me, I particularly enjoy supporting Oliver in our family winery. While working in our vegetable garden, I can live out my love of cultivated plants and gardening.

Wolfgang Gabel
As a Pfalz native, it is important for me to care for and preserve nature and its diversity. For more than 30 years I have known my vineyards like the back of my hand. So, I understand exactly what the vines need. The conversion to organic viticulture has led to an even deeper understanding of the needs of our soils and plants in the vineyards.

Rianne Tuerlings-Gabel
As a native Dutchwoman, love once drew me to this beautiful region. In the winery I am happy to present our wines to people from all over the world. To broaden my knowledge, I exchange information with other women in the wine industry in the network Vinissima - Frauen und Wein e.V. and Vrouwen in de wijn (NL). Even though I am officially retired, I am always available for advice and support.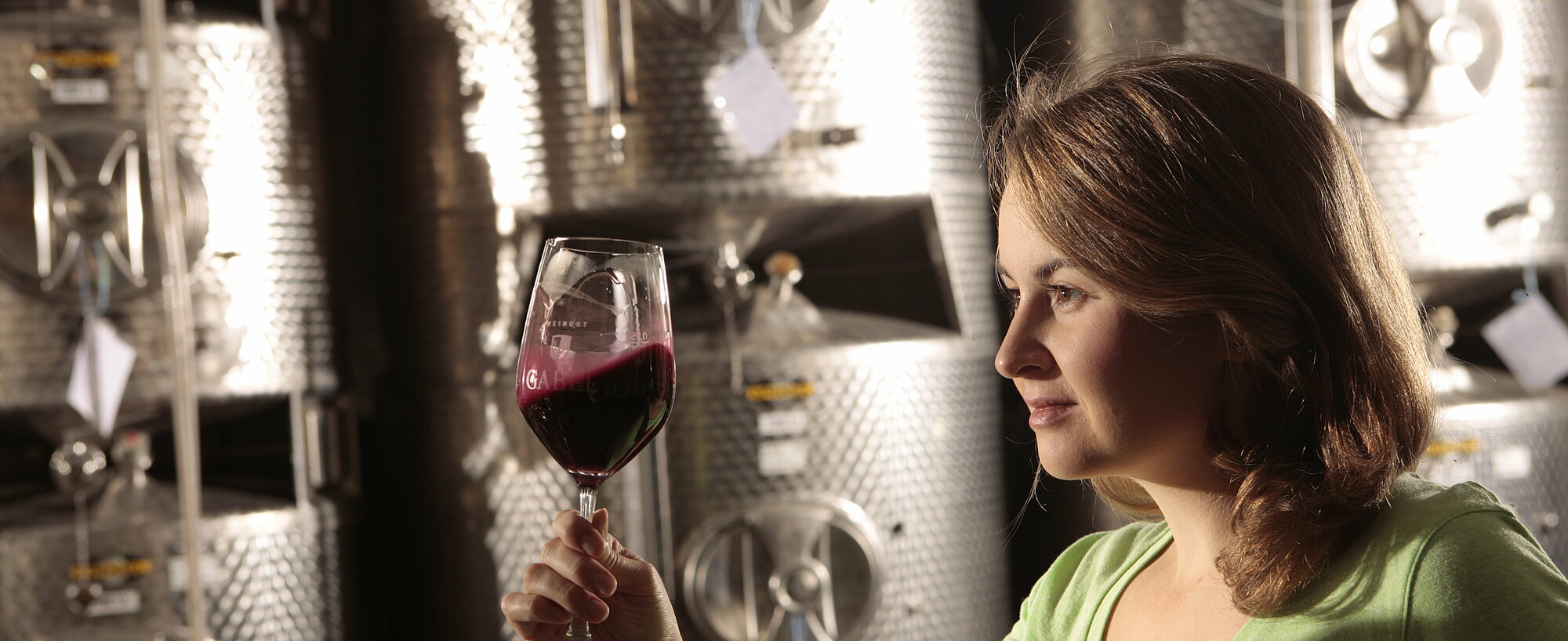 Lisa Gabel
The knowledge I gained during my studies of wine management in Heilbronn is of great benefit to me in our winery. After my studies I worked for several years in our family winery. As I am fascinated by the great world of wine, I took up a new challenge in 2016 and have been working for an internationally operating company in the wine industry ever since. When tasting the young wines and making important decisions, I continue to contribute my knowledge.

Maya
As a winery dog, I am always very happy about many new customers and good friends who visit our winery regularly. In spring and summer, I like to be with the team in the vineyards and support everybody with my cheerful character.